Therapeutic Massage Targeted to Your Specific Needs
Say goodbye to stress, pain, and stiffness with Body Heal Therapy.


It's Not Just About Relaxation, It's About Results
Our methodology can help you tackle a variety of problems
Migraines/Headaches
Stress and Tension
Poor Posture
Chronic Back Pain
Scar Tissue
Nerve Pain & Dysfunction
Joint Limitations/Stiffness
Sports Recovery
Post-Surgery Recovery
Massage and bodywork can alleviate more than you might think.
Our Method Creates Specific Results
Our Method Creates Specific Results
Here's How it Works

Book an Appointment
Complete a 2min. intake form

Attend Your Session
100% personalized with a full assessment

Feel Great
with less pain, less tension and more freedom
Hundreds Have Updated Their Quality of Life
Home page slides
"I am a bodyworker/massage therapist and Body Heal is an integral part of how I KEEP my body WORKING!"
—Joselyn J
Home page slides
"I highly recommend Body Heal Therapy, they are extremely professional and knowledgeable. Their massage is unlike any other massage I have had – it's more of massage and physical therapy combined."
Home page slides
"They assessed my movement before beginning, worked on tight muscles, and then re-assessed to see improvements. They really got to the root of what was causing my tension."
Home page slides
"You can tell that they truly enjoy what they do."
—Jonathon A
Home page slides
"Body Heal bodywork in Charlotte is the best. I've been with them for 3 years and won't look for another bodywork massage therapist ever! Always listen to my needs and deliver the best results."
—Sara S
And You Can Join Them
At Body Heal Therapy we want to help you enjoy a positive relationship with your body.
To do that, you need to be able to move and feel great.
…which can be hard to do if you're dealing with pain and tension.
Pain limits movement, ruins your mood, and holds you back from activities you love.
Read More

Pain and tension present themselves in many ways. Some issues we see in our treatment rooms every day are:
back pain
neck pain
acute injuries
plantar fasciitis
frozen shoulder
migraines/headaches
complications from surgery
We understand how frustrating it can be living with tension and pain.

The bad news is those aches and pains won't just go away on their own. Sometimes they can even worsen as the weeks and months go on…

The good news is you can address these issues with bodywork.

In simple terms — bodywork uses precise manual therapy techniques to target specific needs of your body. And it can come in many forms depending on your needs.

Cupping, Structural Integration, Myofascial Release, Rolfing, Craniosacral Therapy, Active Stretching, Mobility, and more are all services we offer to give you relief.

We're empathetic to the demands of daily modern life.

Long commute got your hip flexors tightening up? We get it.

Desk job giving you a stiff lower back? We can help.

Weekend runs flaring up those old injuries? We have tools to address that.

Our team of therapists brings years of training and experience to the table (pun intended). We've had the pleasure of helping 1300+ people:
relieve pain
ease tension
reduce stress
recover quicker
improve posture
increase range of motion
unlock restrictions in tissue
build a positive relationship with their body
We don't want to just give you a massage. We want to help you improve your quality of life.

Our goal is to provide your body with what it needs to thrive. And save you time and money by matching you to the exact style of treatment you need to feel great.

Our massage therapists don't just work on you — they work with you.

Here's how you can start moving and feeling your best:

Step 1: Book an appointment. We offer flexible days and times across many locations in the greater Charlotte area.
Step 2: Attend your Session. Your therapist will assess your needs and tailor the session around them.
Step 3: Start Feeling Great. Less pain. Less tension. More movement. More freedom.

Feeling good in your body matters. And most people don't realize how effective therapeutic massage and bodywork can be.

So, book an appointment today. Let's get you moving and feeling great.
FAQs
Wear comfortable, easy-to-move-in clothing. Close-fitting clothing or sports bras are preferred for structural analysis, and treatments are performed clothed.
We ask for 24 hours' notice to adjust or cancel appointments at no charge.
Cancellations within 24 hours are charged 50% of the session price.
Missed sessions with no notice are charged 100% of the session price.
Unfortunately, we are not able to accept and file with your insurance. However, we can provide you with all of the information that you need to file with your insurance company directly.
Yes, we do! Just click on the Book Online button to schedule a consultation. We are happy to go through some assessments to see how KCB will be able to help you with your goals.
No. We cannot diagnose. Only a doctor can make a diagnosis.
We can and do use orthopedic testing to determine if bodywork is recommended for your issue. If we find that the test we perform is a positive then we may recommend that you go to a medical practitioner for a diagnosis.
Since every one of our therapists is an independent contractor we allow each therapist to decide whether they require credit card information to hold an appointment.
If the therapist does require credit card information to hold the appointment then that therapist will contact you to get that information so that they can put it securely in Square. Your card will not be charged and no amount will be held for the appointment.
If you cancel within 24 hours of the appointment or do not show up for the appointment then half of the price of the session will be charged to the card on file. Thank you for your understanding and please call us with any questions.
Body Heal Therapy is a holistic approach to pain relief. Since the human body moves as a unit, rather than in individual pieces, we often compromise for repetitive patterns and postures with unrelenting tension in other areas that can cause pain. By addressing these patterns, we can go beyond providing temporary help to the area causing discomfort, and instead, treat the root cause with lasting results.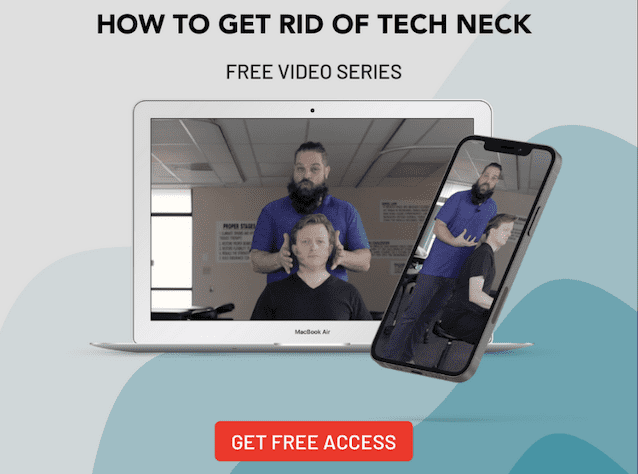 Get Rid of Tech Neck Forever
Three videos to help you reduce neck pain and improve your posture.
GET FREE ACCESS