Our Method Creates Specific Results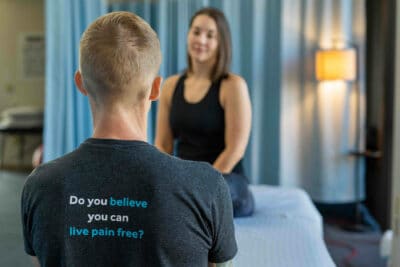 Free Consultation
Want to make sure Body Heal Therapy will work for you? So do we. We offer free consultations to ensure your needs are heard and understood. After learning about your situation, we employ various assessments to determine if we can help. Best for unique and/or complicated scenarios.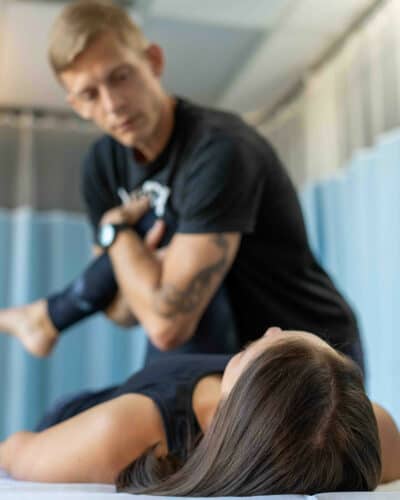 Bodywork
Bodywork is a targeted, assessment-driven form of manual therapy that hones in on key problem areas to reduce pain and promote better movement. Techniques used may include myofascial release, NMT, stretching, guided movement and more.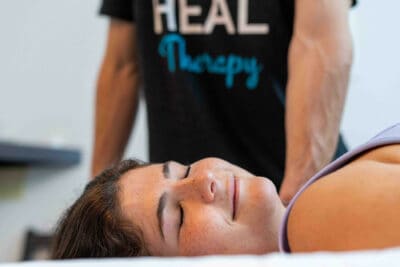 Deep Tissue Massage
Our deep tissue massage blends the fundamental core of bodywork technique with a shift in intention towards reducing stress and relieving tension. This comprehensive deep tissue massage places the focus on the cause of your tension as well as the major stress areas of the body to provide relief like you have never experienced with a deep tissue massage before.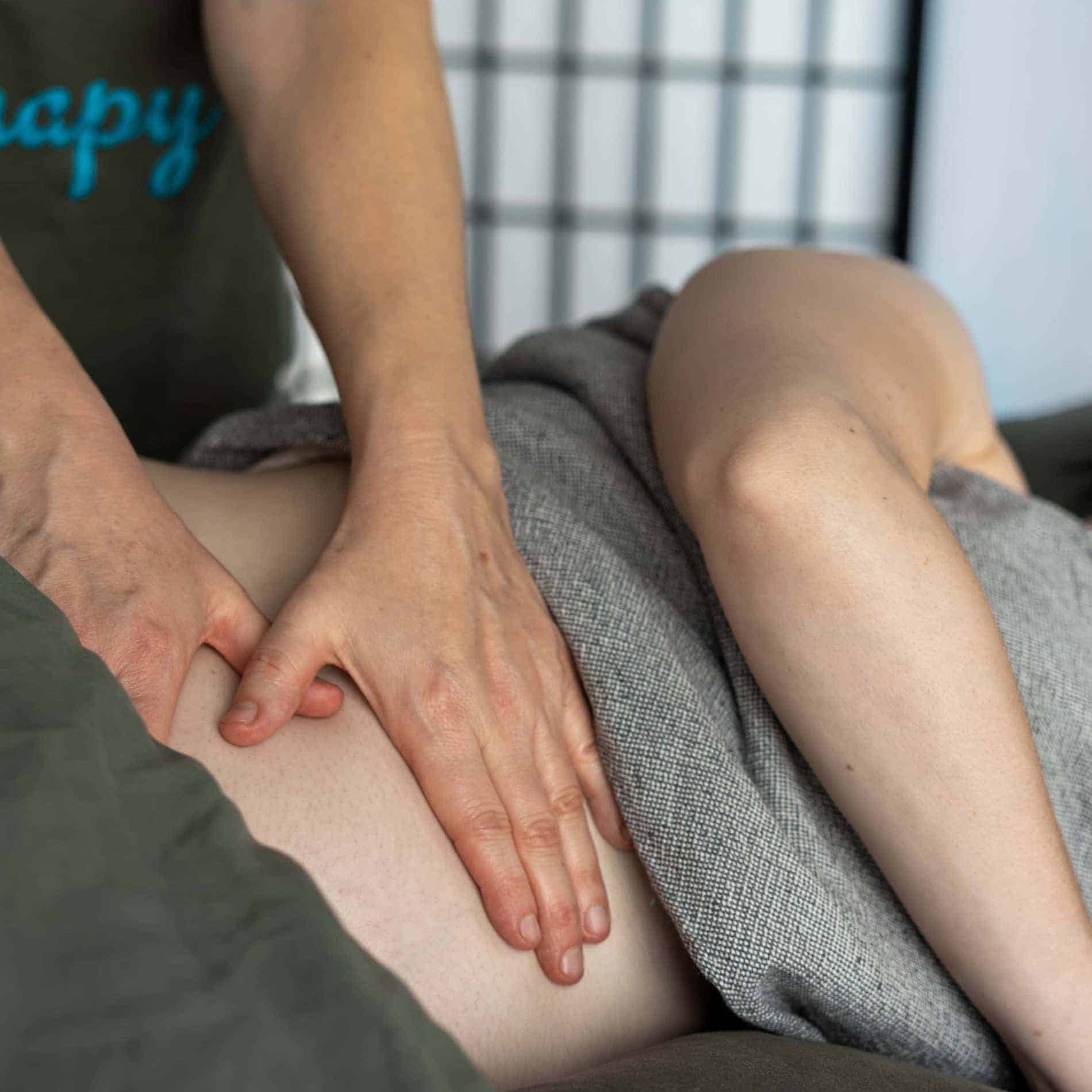 Prenatal Massage
Prenatal Massage focuses on a calming and nurturing side-lying flow to support deep relaxation, tension release and increased circulation. It encourages openness and stability as the body is navigating changes with a growing baby.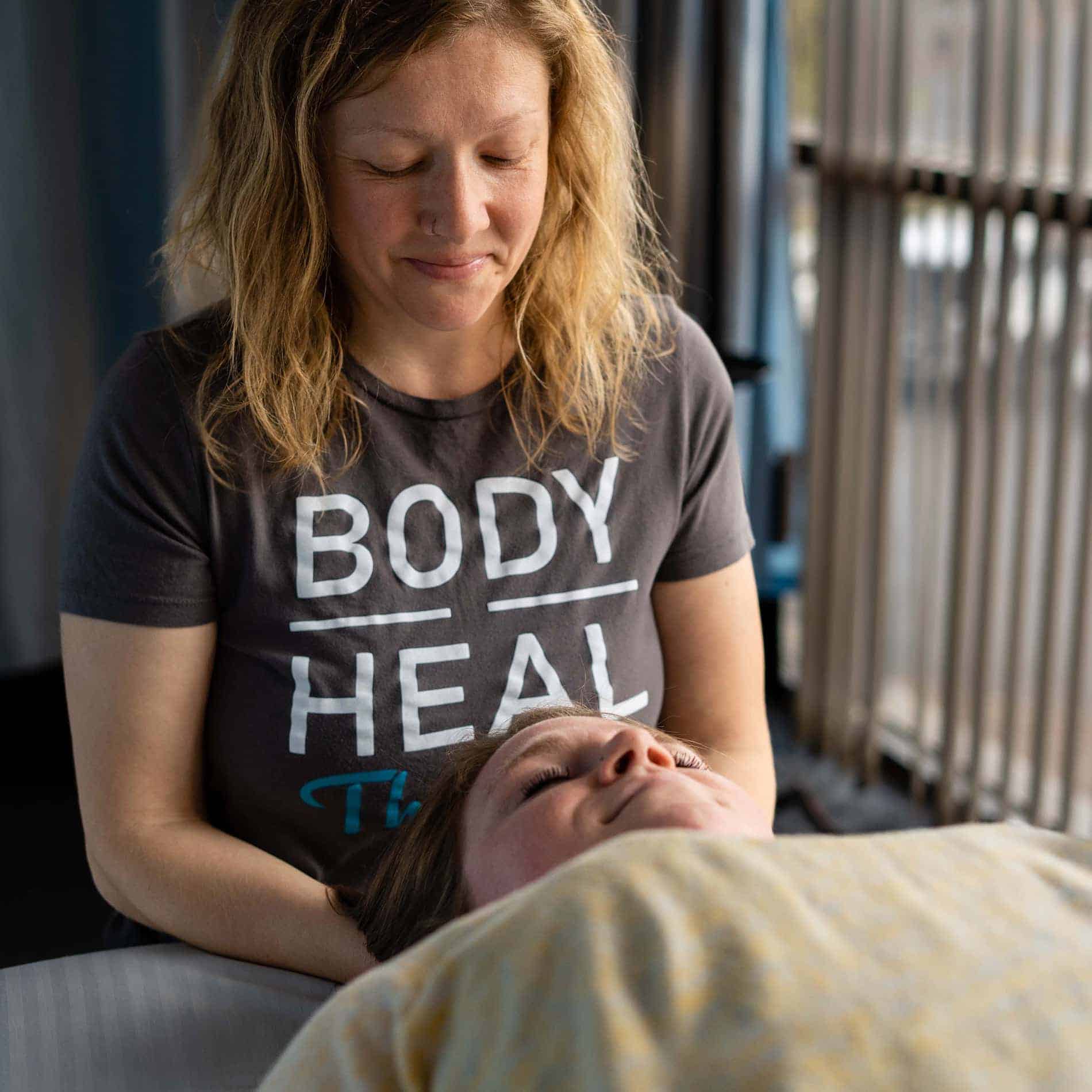 Craniosacral Therapy
Craniosacral Therapy (CST) is a style of therapy that uses a light touch to create a calming, regulating effect on the autonomic nervous system. This technique helps with head trauma, neurological issues, headaches, high levels of anxiety, pain, emotional distress, and more.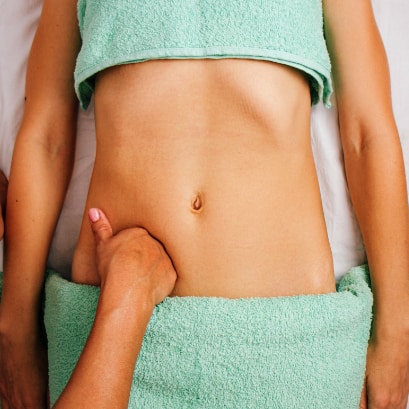 Lymphatic Drainage
Lymphatic drainage massage is a form of gentle massage that encourages the drainage of lymph nodes and movement of lymph fluids around the body.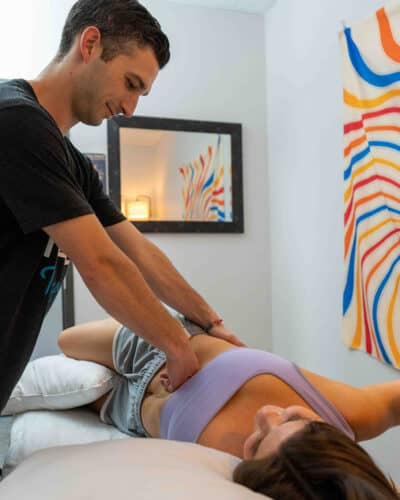 Visceral Manipulation
A light touch therapy that improves the mobility and function of the internal organs of the abdomen, reducing pain, stress, and tension.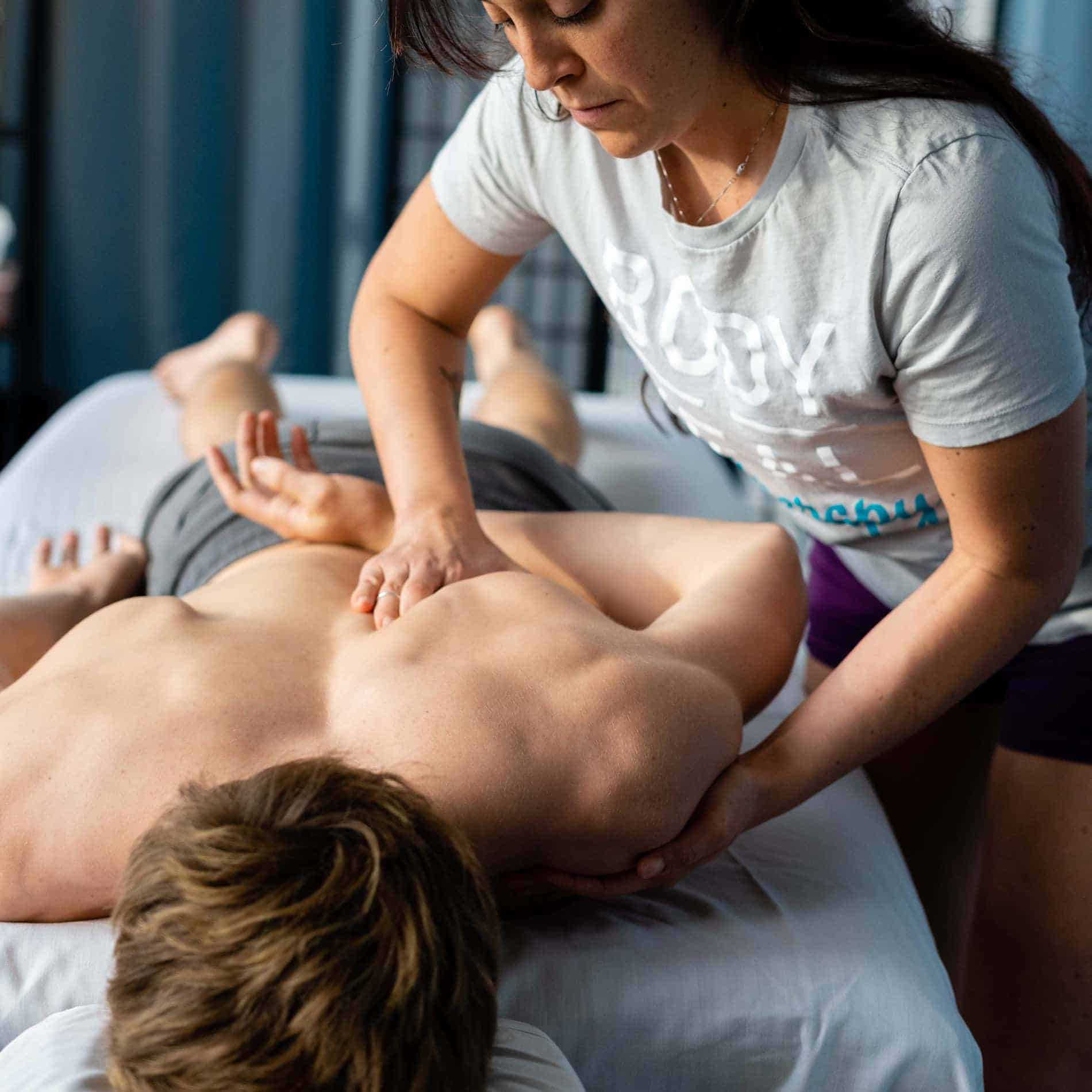 Stretch Therapy
Our assisted stretch therapy can be incorporated into any therapy session as well as a session on its own. The primary goal of stretch therapy is to treat tightness, imbalances, and restrictions that cause movement distortions, pain, and an increased risk of injury.
Sports Massage
Get back to what you love. Our Sports Massage sessions blend a host of techniques to promote circulation, muscle repair, and joint rehydration.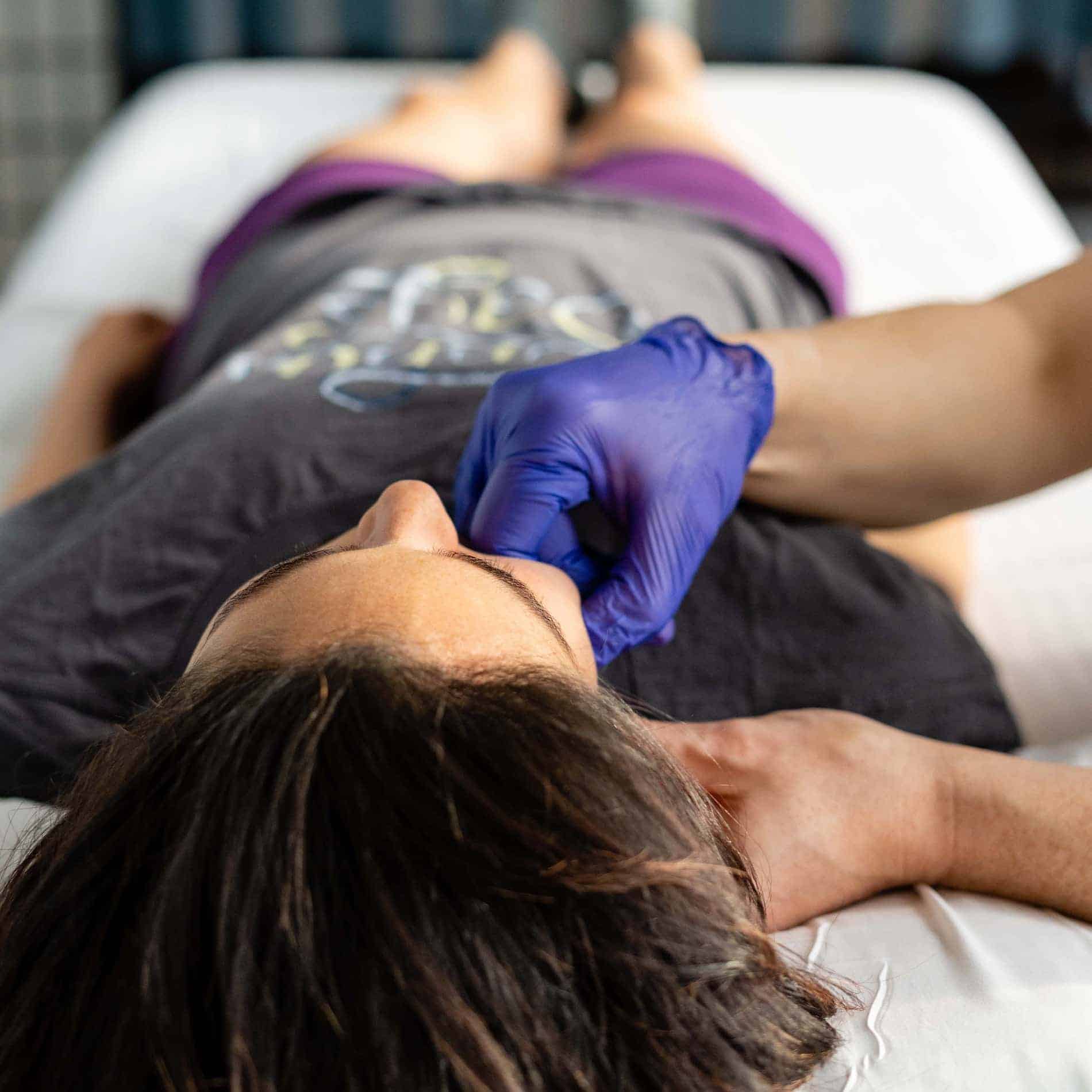 TMJ Massage
Our TMJ Massage focuses on alleviating the symptoms of TMJ Disorder which include chronic headaches as well as head, neck, teeth, jaw, and face pain. This technique can be performed both inside the mouth and outside of the jaw depending on your comfort level. This technique is used in our Deep Tissue Massage and Bodywork Therapy sessions where needed.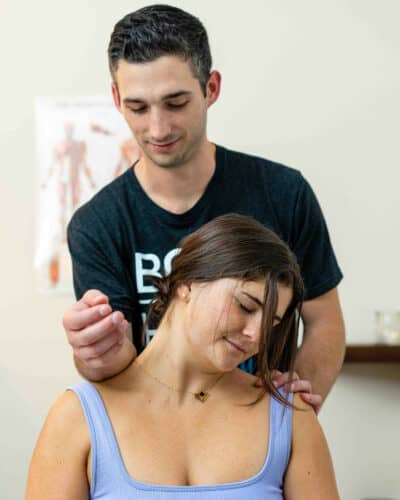 Myofascial Release (MFR)
Myofascial Release (MFR) is a technique that creates a deep stretch in the tissue to free chronic tension from the body. Used as the primary technique in Rolfing, ART, and other advanced therapies, MFR is excellent for improving posture, reducing tension-related pain, and better overall movement. This technique is used in our Deep Tissue Massage, Bodywork Therapy and Sports Recovery sessions where needed.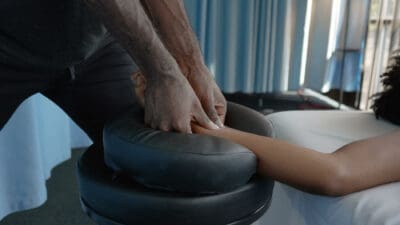 Neuromuscular Therapy
Neuromuscular Massage (NMT) is a deep tissue method with a precise focus on muscle bellies and tendons. Consisting of long compressive holds, NMT is used to treat chronic or acute pain, release deeply-guarded tension, and sports recovery. This technique is used in our Deep Tissue Massage, Bodywork Therapy and Sports Recovery sessions where needed.
As a single mother of two sons and working full time as a divisional manager of a restoration company, stress began to shut down my body.  When diet, yoga and meditation were no longer enough, I began to search out holistic ways to help my body recover.  I was introduced to therapeutic bodywork and credit it with saving my life.  This began my journey in helping people like myself who are under chronic pain and stress.
Part of this journey lead me to become a Licensed Massage and Bodywork Therapist in North Carolina since 2017.  I am a graduate of the North Carolina School of Advanced Bodywork.  In order to help more people, I've earned certifications in:
Visceral Manipulation I, II, III, IV and V
Cranio-Sacral I, II, III and IV
Lymphatic Drainage I, and II
Prenatal Massage
Oncology Massage
Personal Trainer
Master Reiki Practitioner
Aromatherapy
Hot Stones
Stress Management
Advanced Stress Management
Meridian Therapy
…and many more. 
The more I learn the more I realize there is much more to be added to help my clients.
I had the honor of introducing bodywork to the UNCC 49ers men's basketball team and have had the pleasure of working with the Charlotte Panthers defensive linemen, and the Cardinals soccer team.  I love helping athletes reach their goals, whether it is improving performance, recovering quicker, and/or increasing range of motion.
Traveling, learning new cultures, reading, working in the yard/garden, exploring viticulture and viniculture are also passions.  Because of my love of wine, I became a level one sommelier. 
Passion about helping people in pain and dysfunction to have a better quality of life and better range of motion drives me to continue to learn and to continue to share with every client on the table.  I look forward to seeing you soon.